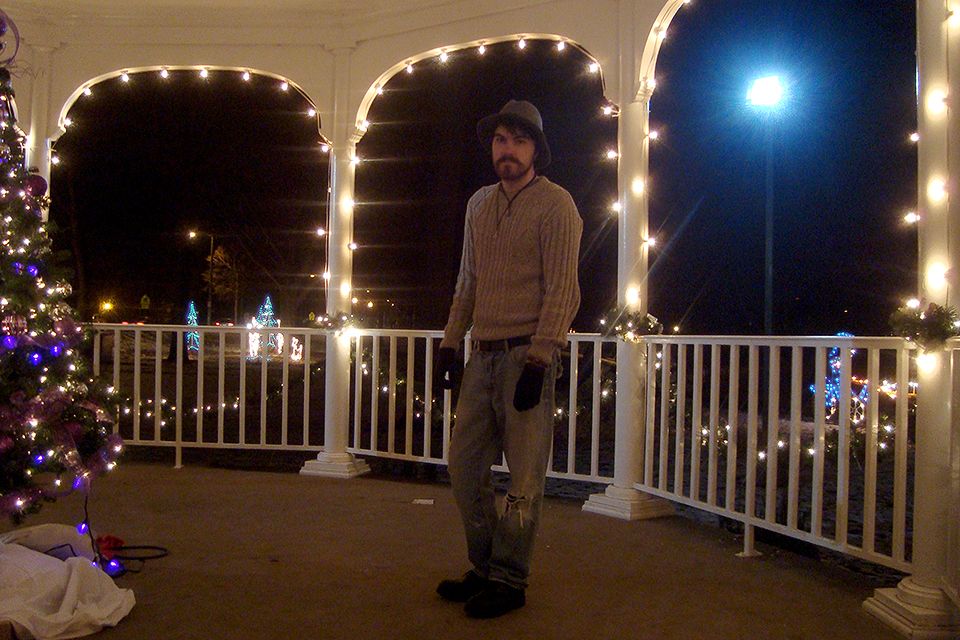 I've been staring at the folder with all the Lake Anna photos for like an hour, trying to decide which ones I should upload. It kinda sucks because they're all really shaky from the lack of light. And even the clearer ones are really tacky. I'm so in need of a new camera, but every time I ask my family they laugh and tell me to get a job. Problems of a bum. So I started a change jar in which I will be saving up for a new Sony camera. I have about $4 completed. Yay.. *sarcasm*

Anyways, I decided to give up and just upload this photo of me inside the gazebo which was super decorated and fancy. I was wearing my awesome "ugly" Christmas sweater that I found at the Goodwill last year but never wore. Overall, the Christmas lights/decorations at Lake Anna are really simple but still pretty cool. We try to go every year and just walk around the lake but this year was really cold so we walked a bit, then drove the rest of the way around. My niece was with us so we couldn't stay out too long.

Nobody liked my hat but it's been sitting in my closet for the longest time and decided I don't have any shame in wearing it. I will also need to make a trip to Aéropostale soon because I've been wearing the shit out of those jeans for the last 3 years.